Affordable House Water Filter & Installation Service in Keego Harbor, MI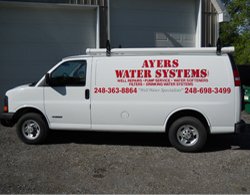 Ayers Water Systems sells and installs water filtration, water softening, and reverse osmosis systems for homeowners in the Keego Harbor area. We are licensed and insured, and guarantee a professional job from start to finish.
Established in 1970 in Oakland County, Michigan, we specialize in well and pump systems, whole house water filters, water softening systems, and related services. Our experts can help with hard water problems, water filtration issues, taste problems, and upgrading well pumps to improve water pressure and volume.
Oakland County's Premier Source for Water Treatment Systems
Family owned & operated
Well drilling, repair and service
Water softener repair and installation
Whole house water treatment systems
Iron filtration for tough water problems
Reverse Osmosis drinking systems provide purified water straight from your tap or refrigerator

Serving all of Oakland County
Doing business for over 40 years
Authorized to Service First American Home Buyers Warranty Company & 2-10 Homebuyers Warranty customers
Pump service and repair
Licensed & Insured
We do Residential & Commercial Systems
Water Softener Systems & Water Filtration Systems in Keego Harbor, MI
Hard water is a problem in most of Oakland County, especially in well water. Hard water builds up in the pipes, causing blockages, and forms an unpleasant film on sinks and bathtubs that has to be scrubbed away, known as "limescale." It also affects your skin, making it dryer and causing you to have to use more soap. Ayers sells whole house water softener systems that remove much of this buildup and helps protect you and your plumbing from the deleterious effects of hard water.
Sterling IM Series Water Softener
Settings are easy to understand and use. Gives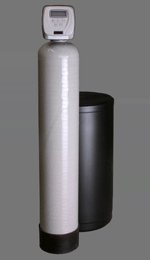 you the option of what time you want regeneration to take place. With the properly set time and program, you simply have to keep salt in it.
The six cycle WS1 Series valve is motor driven, there are no solenoids or diaphragms to stick or hang up. This is the most reliable system for consistent performance.
User friendly
Conserves water
Flexible
Reliable

Digital control display
Power outage protection
Warranty
---
Sterling High Efficiency Water Softeners
Uses as little as 4 lbs of salt per regeneration. This represents a 33% savings compared to standard water softeners. Not only do you save substantial dollars, but you reduce the hassle of carrying salt.
HE (High Efficiency) water softeners utilize a revolutionary new resin that has higher kinetics resulting in less salt usage, greater softening capacity, better iron removal, and is more tolerant of chlorine.
---
Iron Filters
Control the iron in your home
Stop iron stains
Protect plumbing, fixtures, appliances and clothing
Eliminate the need for harsh chemical cleaners in showers, sinks, toilets and appliances
Protect your water softener from iron build up
Eliminates the need for iron-out salt
Reduces normal salt consumption, saving money
STERLING OXY2 SERIES Iron Reduction System
The chemical-free solution for your toughest well water problems!
Whether it's rust stains in your sinks or the smell of sulfur every time you turn on the tap, your water problems can cause you more than frustration and embarrassment. They can damage your fixtures, discolor your laundry, or create an unpleasant odor in the shower.
---
STERLING OXY3 SERIES Iron Reduction System
For homes with higher flow rates, a 2 tank system enables a continuous supply of iron free water with varying sizes available to accommodate your family's needs.
---
Reverse Osmosis Systems in Keego Harbor, MI
Reverse osmosis systems provide purified water right from your kitchen sink or refrigerator dispenser. They can be connected to your ice-maker providing crystal clear ice cubes and water purity unmatched by bottled water. Our R.O. drinking water systems use the latest in plastics technology to produce the most streamlined and user friendly R.O. systems on the market.
Hydrotech Aqua Flo Platinum R.O.
The innovative QC twist and lock design makes services simple. Twist off the old cartridge and twist on the new.
No messy sump removal. Aqua Flo Platinum QC systems make drinking water better and easier.
Sterling DWSB Series
Uses readily available standard size cartridge keeping filter replacement costs down. Available with booster pump to purify systems with higher levels of contaminants.
Benefits:
Delicious, sparkling-clear drinking water.
Pristine, flavorful coffee, tea and juice.
Cleanly rinsed fresh fruits and vegetables.
Crystalline, harder and clearer ice cubes.
Better tasting soups, sauces and meals when prepared with R.O. water.
Cost effective. The daily cost of bottled water will no longer be a concern.
Convenient. Fresh, clean water, ready at your tap.
---
With over 25 years of experience in the water treatment business, we are the leading choice for all of your water filter needs. Contact us today for more information!