Professional Water Testing, Water Filtration, & Water Treatment Systems for Your White Lake Home or Business
---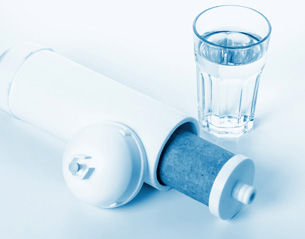 If your well water is darker than usual, cloudy, or smells strange, it may be contaminated! Protect your family with a comprehensive water test.
Contaminated water can cause illness when consumed, and should be addressed by a professional immediately.
If you notice anything unusual, contact the water testing experts at Ayers as soon as possible to diagnose your problem and determine the proper solution. A change in the water table or damage to the well casing or cap may be allowing sediment, pesticides, and other dangerous chemicals into your water supply. A water test can help determine whether your water is safe to drink and whether or not a water filtration system will adequately protect you from potential dangers.
---
Whole-House Water Filtration Systems Can Deliver Cleaner, Better-Tasting, Purified Water Straight from Your Tap
At Ayers Water Systems, we offer a variety of the top name-brand water filtration systems. After performing a water test to determine what types of contaminants are entering your water supply, our team can recommend the ideal water filtration system for your needs.
---
Solve Rust Stains and Yellow Water
The new, state-of-the-art water conditioning systems reduce iron significantly, leaving you with nothing but clean, clear, and iron free water.
Control the iron in your home:
Stop iron stains
Eliminate foul odors
Protect plumbing, fixtures, appliances, and clothing
Eliminate the need for harsh chemical cleaners in showers, sinks, toilets, and appliances
Protect your water softener from iron build-up
Eliminate the need for iron-out salt
Reduce normal salt consumption, saving money
Learn More About the Sterling Water Treatment OXY2™ Series Learn More About the Sterling Water Treatment OXY3™ Series
---
Reverse osmosis systems provide purified water right from your kitchen sink or refrigerator dispenser. They can be connected to your ice-maker providing crystal clear ice cubes and water purity unmatched by bottled water. Our R.O. drinking water systems use the latest technology to produce the most streamlined and user friendly R.O. systems on the market.
Benefits of Reverse Osmosis
Cost effective
Convenient
Delicious, sparkling–clear drinking water
Pristine, flavorful coffee, tea and juice
Cleanly rinsed fresh fruits and vegetables
Crystalline, harder and clearer ice cubes
Better tasting soups, sauces and meals
Reduces normal salt consumption, saving money
Learn More About the Aqua Flo Platinum QCRO
---
Did Your Water Test Positive for Arsenic? Don't Panic, We Can Help
If your water supply has been contaminated with arsenic, it's essential to have the experts at Ayers install an arsenic reduction system that will protect your family's health. Long-term exposure to arsenic can lead to increased risk of cancer and changes in skin thickness and pigmentation. The most common sources of arsenic in drinking water are pesticides, herbicides, and insecticides.
We offer professional installation of the Sterling Water Treatment FBW Arsenic Series, designed to eliminate unwanted arsenic from your household water. This low-maintenance, patented system will reduce arsenic levels well below acceptable health and safety standards as outlined by the Environmental Protection Agency.
Learn More About the Sterling Water Treatment FBW Arsenic Series
---
The team at Ayers Water Systems, Inc. has been providing a complete range of water testing, treatment, and filtration services for Michigan families and businesses since 1970. Our decades of experience make us a trusted choice for 'everything well' in Oakland County and the surrounding areas. Call us at (248) 891-0378 to schedule an appointment and we'll have your water restored in no time!