Is Hard Water Damaging Your Skin, Clothes, and Appliances? We Offer Professional Installations of Whole-Home Water Softeners in White Lake & Oakland County
---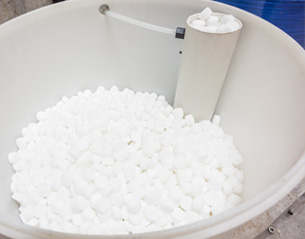 Water that is considered hard is high in mineral content, especially calcium and magnesium. These mineral deposits can cause a wide range of issues in your home or business.
If you suffer from itchy skin, stained sinks, or plumbing problems, a water softener may be the solution you need.
If you suspect that you are dealing with hard water, the team at Ayers Water Systems can perform water testing services to determine the mineral levels in your water and the professional installation of a whole-home water softener to reduce mineral buildup.
---
Common Signs You Need a Water Softener for Your Home or Business
Dry, Itchy or Flaky Skin
Excess minerals in the water you use to shower or bathe can block your pores and dry out your skin. Soaps and shampoo can only go so far to remedy the problem, and removing the minerals from your water supply can make a world of difference for the health of your skin.
Faded & Damaged Clothes
Hard water in your washing machine can prematurely fade and degrade your clothing. While fabric softeners can help, the most cost-effective solution may be a water softener.
Stains in Sinks & Bathtubs
Mineral residue left behind from hard water can cause hard-to-remove stains and residue in your tubs and sinks. If you notice a white, flaky residue left behind after water has evaporated, you are likely dealing with hard water.
Frequent Plumbing Problems
Steel pipes are easily damaged from certain minerals commonly found in hard water. If your pipes are frequently forming leaks, have your water tested to determine if you need a water softener.
If you are experiencing any of the problems mentioned above, we install, service and maintain Sterling Water Treatment systems. These advanced systems are designed to service both residential and commercial properties with luxurious soft water. Enjoy an additional 33% salt savings by installing a high efficiency model.
Learn More About the Sterling Water Treatment NES Water Softener Learn More About the Sterling Water Treatment XTS Water Softener Learn More About the Sterling Water Treatment Twin Tank Water Softener
---
The team at Ayers Water Systems, Inc. has been providing a complete range of water testing, treatment, and filtration services for Michigan families and businesses since 1970. Our decades of experience make us a trusted choice for 'everything well' in Oakland County and the surrounding areas. Call us at (248) 891-0378 to schedule an appointment, and we'll have your water restored in no time!