White Lake's Leading Source for Well Drilling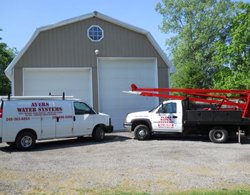 Ayers Water Systems is has over 40 years of experience providing well drilling and pump services in White Lake and surrounding areas. We are licensed and insured, and guarantee a professional job from start to finish. We pride ourselves in offering the highest quality well service at the most affordable prices.
Water wells should be properly maintained and the water tested regularly to ensure the safety and quality of your water supply and to prevent the possibility of illness. Since 1970, Ayers Waters System continues to provide well service, pump replacement/repair and water conditioning services. Hence our motto, "We do all things well."
Oakland County's Most Trusted Well Service
Family owned & operated
Well drilling, repair and service
Water softener repair and installation
Whole house water treatment systems
Iron filtration for tough water problems
Reverse Osmosis drinking systems provide purified water straight from your tap or refrigerator

Serving all of Oakland County
Doing business for over 40 years
Authorized to Service First American Home Buyers Warranty Company & 2-10 Homebuyers Warranty customers
Pump service and repair
Licensed & Insured
We do Residential & Commercial Systems
White Lake's Well Drilling & Repair Experts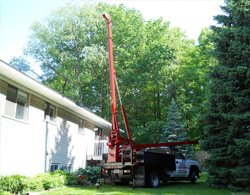 If your property is positioned to be served by a well, Ayers has over 35 years of experience of drilling new wells for any sized property. We will install your new well with the best quality, parts, and components that include brass and steel underground connections and heavy duty, contractor-grade tanks backed by a 5-year warranty.
If your well or tank is losing pressure, our team can diagnose the problem for you and do any necessary repairs to your pipes and systems. We repair all types of wells from 2" to 6" specializing in submersible pump replacement, well cleaning, well chlorination, drop pipe replacement and underground leaks. We are also licensed to properly abandon unused wells and perform hook-ups to city water (if, for example, the well is no longer serving your needs).
At Ayers Water Systems, we know all of the permits required for well construction and abandonment in Michigan and are licensed and insured to do so. Our services don't stop there - we provide routine maintenance services, too!
Well Pump Installation, Replacement, & Repair Services
Our team can install new or replacement submersible and jet pumps, ranging from 1/2 hp to 7 1/2 hp in type. We are well equipped to install constant pressure systems to provide the same kind of pressure you expect from city water. If your well pump is not providing enough pressure, Ayers experts can repair or upgrade it.
Our team can also service and repair pressure tanks and leaks from any part of your well and pump system, even in emergency situations. All pump replacement and repair services are of the highest quality and installed with efficiency - we guarantee it.
Pressure Tanks
We service and install pressure tanks. We repair from minor to major leaks, and from recharging to replacing. Expert service, installation, set-up, removal and disposal of your old tank. Backed with a 5 year warranty on all brands including Well-X-Trol, Well- Mate, Pro-Source Plus, Perma Tank and State.